About Us Blue Crew Photo Pages Web Links
Blue Crew Tailgaters - Platinum Lot
Who are the Blue Crew Tailgaters? - The best definition to describe the Blue Crew Tailgaters is...well...Big fans who tailgate in what used to be the Blue Parking Lot. A majority of us have been a part of the Blue Crew Tailgaters since the first season, and several of us are also members of the Bull Pen.
Click HERE to see what Traditions we uphold sitting in the Texans Bull Pen
Where do we meet? - A majority of the original Blue Crew Tailgaters have remained in the original corner of what used to be the Blue Lot. The Texans have converted part of the Blue Lot into the new Platinum Lot. If you just ignore the color reference, we are in exactly the same corner we have always been since the first season.
Since migrating the parking lot to Platinum, we have been given access to the parking lot an hour earlier than before...that's 5 hours of tailgating before every game. When you come to the game, be sure to swing by and say hello to everyone there. Most are on the Texans Messaging Board (you can find that on the Links page), and others are fans from all over the stadium. We have occasional guests that swing by from out of town, but that depends on what teams we are playing that week.
Many folks might recognize several of our local members of the Blue Crew Tailgaters, such as BullPen1 (Ultimate Fan 2004), Joe Texan, Grandma, BullPenAndy, and the list goes on and on...Speaking of Joe Texan, did you know he was a poet? Check out some of the poems he has written over the past few years Click here! to read a few poems from the infamous Joe Texan!!!
We also get a regular visit from the Houston Texans Pep Band every game day to get the blood flowing and our hearts pumping before we go into the stadium. Check out the information about the band here PEP BAND
For those who have come to visit us, thank you!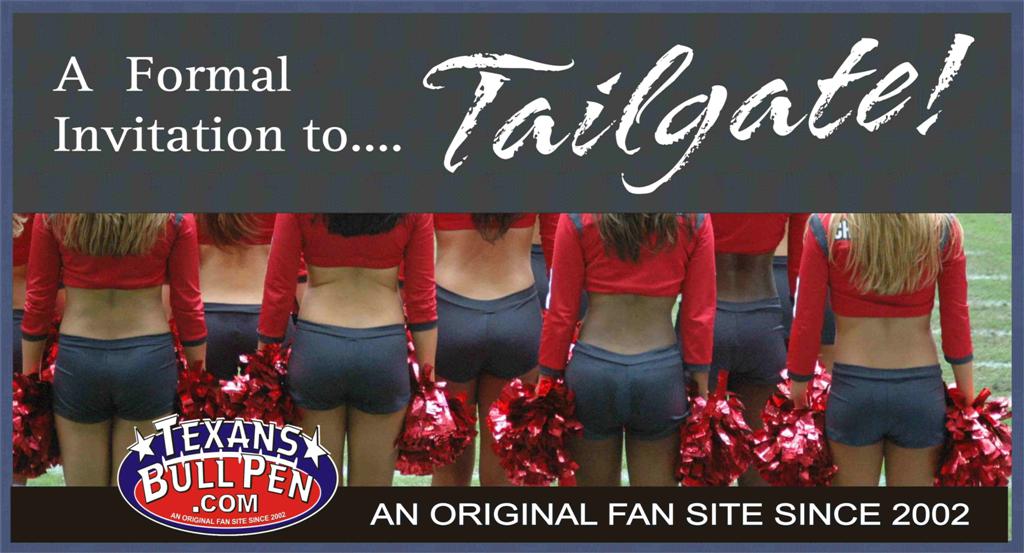 More information about the Blue Crew Tailgaters can be found @ www.TexansTalk.com
Web site designed and created by: LeeAlex Entertainment.
Contact the Web Master:webmaster@texansbullpen.com